by Sheren Javdan
April 1, 2015
Amazon members will soon be able to order products at the press of a button, literally. 
On Tuesday, the online retail giant revealed its newest product, the Amazon Dash Button.
The Dash Button allows Amazon users to order refills of their favorite products by simply pressing a button that can be placed anywhere in the home or office.
The Dash Button connects via Wi-Fi and allows users to order common products they are running low on.
Amazon is currently offering the Dash Button, by invitation only, to certain Amazon Prime members.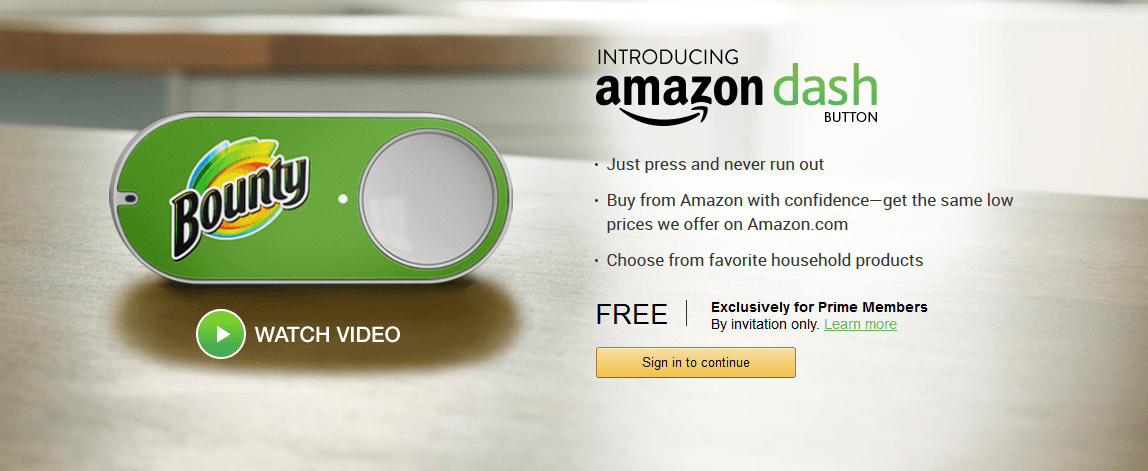 The combination of Amazon's "magic button" with their "Same-Day Delivery" takes instant gratification to a whole new level and may represent the future of product ordering.
So What Exactly is the Amazon Dash Button?
The Dash Button is a small physical button that comes with a reusable adhesive back and hook that users can stick, hang or place wherever they wish.
The idea is to keep it near products that are used daily and run out often. This means the Amazon Dash buttons will likely be used in places like kitchens, laundry rooms bathrooms, office stock rooms and even refrigerators.
The point is to keep it close enough that as soon as you realize you're running low on your favorite toilet paper or coffee, you simply click the button to order a refill.
ALSO SEE: Amazon Pays Employees $5,000 To Quit
Amazon keeps track of your purchase history and will know exactly what quantity and size to order. Users can pre-specify how much of each product they'd like ordered each time. 
For example, a 12-count roll of toilet paper vs. a 32-count. Ideally, the button works best for products you use very often (like coffee, razors, water or detergent) so you can avoid multiple trips to the market.
A green blinking LED light will indicate that your order has been placed and smart technology is used to to prevent duplicate refill orders. 
So, for example, if you ordered laundry detergent yesterday, your spouse won't be able to accidentally reorder a refill until the original order is shipped.
Amazon Dash Button Partners
Amazon is currently partnered with eighteen major retailers including Clorox, Glad, Huggies and Kraft and only offers specific products within each brand. So, for example, as of right now, members can order Glad trash bags but not Tupperware or Gerber baby food but not clothes.
As of today, there are 255 featured Amazon Dash Button products, including Clorox Disinfecting Wipes, Bounty Paper Towels, Cottonelle Toilet Paper, Wellness Dog Food, Glad Trashbags and Tide Laundry Detergent.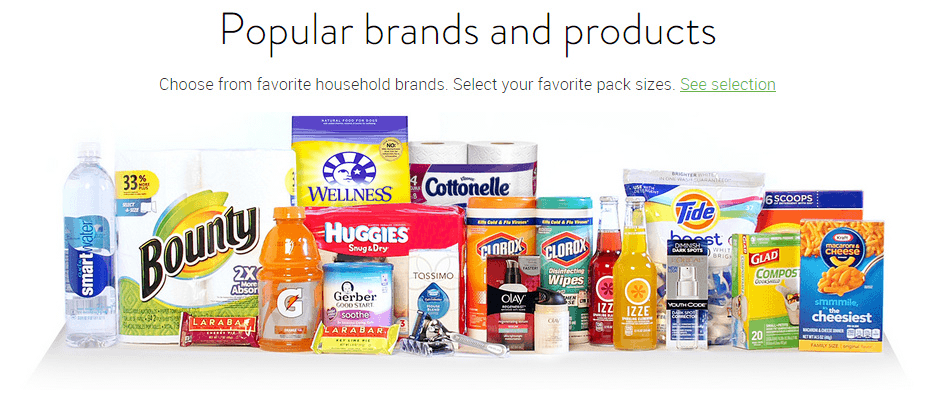 Dash Replenishment Service (DRS)
Amazon has taken product reordering a step further via their Dash Replenishment Service (DRS) technology which integrates into household devices in two ways.
One option is for manufacturers to build a physical button, similar to the Dash Button, into the device itself. Another option is to incorporate a technology that automatically senses, and places an order, when users are running low on a product.
Three popular household brands, Whirlpool, Brita and Brother, have already taken steps to incorporate DRS technology into their products.
Soon, Whirlpool's line of washer and dryer will detect, and automatically reorder, when your laundry supplies are running low.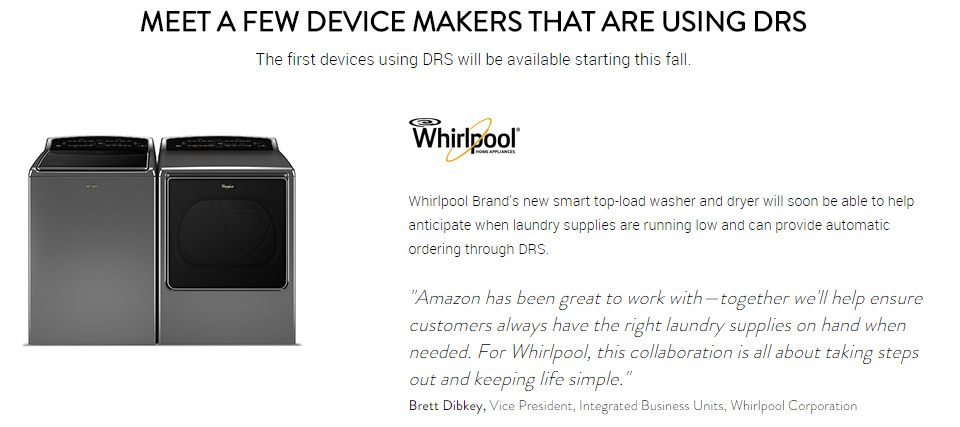 Brita products will measure how much water you have used to anticipate when the filter will need to be changed while Brother printers will measure the toner and ink levels and place an order when they anticipate you'll run out.
New York startup company, Quirky, recently introduced the Poppy Pour Over, an "smart" coffee machine that uses sensors to detect when you're running low on beans and filters.
Taking the information a step further, the machine automatically reorders refills. Quirky also offers pet food and formula dispensers that use the same DRS technology.
Amazon Dash vs. Amazon Dash Button
Amazon also recently released the Amazon Dash, a handheld "magic wand" that allows users to scan product barcodes and order them through Amazon.com. The device syncs with users' Amazon account keeps an organized list of items that need to be ordered.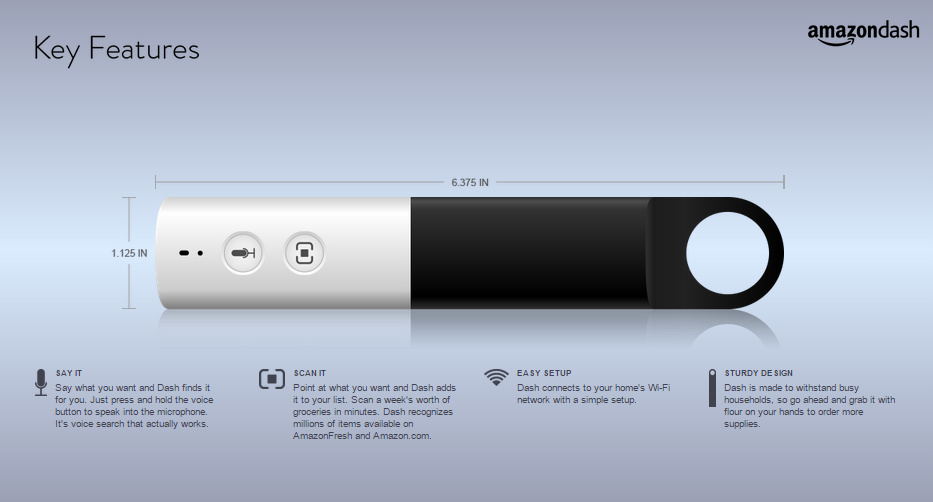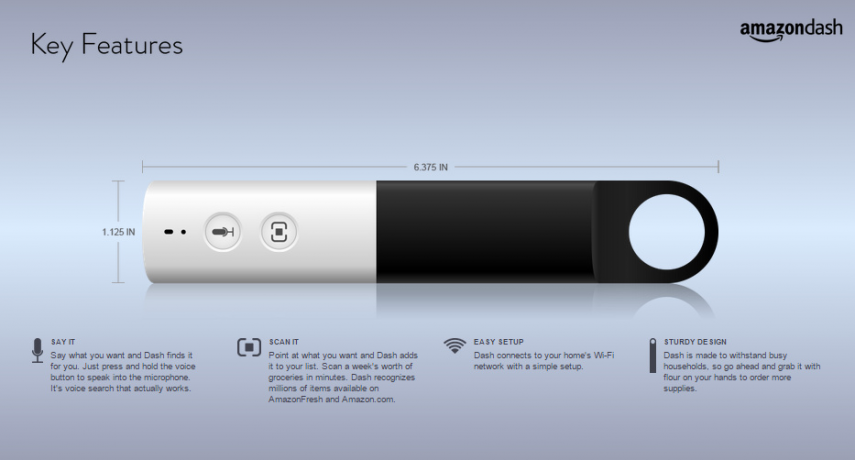 There are two primary differences between Amazon Dash and Amazon Dash Button.
The first difference is that Dash is an actual handheld device that scans each item individually, whereas the Dash Button is specific to each item.
The second difference is that Dash ads products to a list and requires you to sign in to your Amazon account to complete the order. Pressing the Dash Button essentially results in an instant product order using stored credit card information. 
Will the Dash Button Be A Success?
With these latest product launches, Amazon continues to grow an expansive presence in the everyday lives of its members..
Time will tell what impact Amazon Dash and Amazon Dash Button will have on Amazon's bottom line.
With behemoth competitors like Google Express vying for a commanding share of the multi-billion dollar online retail industry, it's vital that Amazon stays ahead of the curve. 
ALSO SEE: Google Express Expands to LA & Manhattan
With some economists claiming that the Amazon Dash Button could hurt some brands, it will be a interesting road ahead. 
Stay tuned for the latest updates.






Topics: Amazon