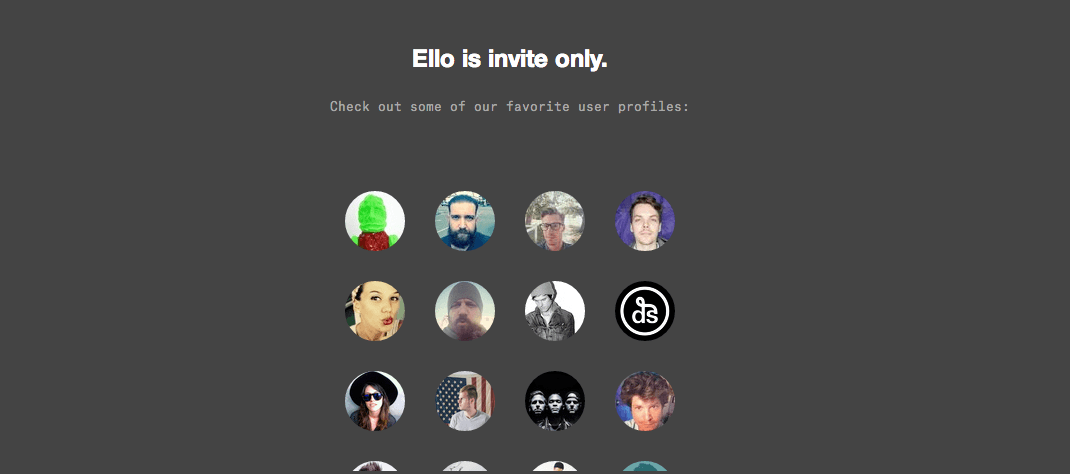 by Sheren Javdan
September 30, 2014
Vermont-based startup Ello, Inc., launched in August, has created a new, "simple, beautiful and ad-free" social network that is invitation only.
Users can only join by requesting an invitation from the site or being invited by someone they know already using Ello.
Originally built as a private social network for use by the founder and his 90 friends, Ello has officially gone viral with approximately 40,000 new users signing up per hour. Ello currently has a waiting list of one million people.

Ello has been branded as the "anti-Facebook" and draws in users with a clean, ad-free, interface which puts a twist on current social networks like Tumblr and Twitter. 
About Ello
Founded in 2013 by Berger & Fohr, Colorado based graphic design team, Ello was intended to remain a private social network but once it gained its popularity, the servers could not handle all the traffic and the team built a public version. 
In January 2014, Ello raised $435,000 in Seed funding from investor FreshTracks Capital. 
The Ello team consists of 7 artists and programmers including 47 year old CEO Paul Budnitz. 
Budnitz began professionally coding safety software for major power plants during high school and has founded dozens of companies over the years. Some of his most notable projects include the luxury bicycle company Budnitz Bicycles and Kidrobot, the creator of art toys. 
Bunitz studied photography, sculpture and film at Yale University and earned his degree (with honors) in 1990. 
The result was a minimalist yet engaging design for Ello.
How it Works
Users must be invited before signing up. Every new user receives 25 invites. With tens of thousands of users being added every hour, it's likely you will receive your own Ello invite soon.
After being invited and registering, you are prompted to choose a username (which does not have to be your real name) which can be changed later. Unlike Facebook, your sex and birth date are not required.
Next, you simply add friends, create posts, add photos and can tag other users.
Users can also choose who they want to follow as "friends" or "noise." People characterized as "noise" will not know that they have been sorted which is a great tool for users who frequently add friends to their Facebook who they do not actually like.
Ello Manifesto 
Above all, Ello prides itself in providing its services ad-free and promises to never sell any user information in the future. As a result, users will no longer find those annoying ads on the side of their Facebook news feed or sponsored tweets on Twitter. 
The company's manifesto states that Ello users are "not a product" unlike other social media sites that track record and covert users' information and later sell it to advertisers. 
Ello does not make any revenue from selling users' information to third parties including advertisers, data brokers or search engines.
The company further states that the only circumstance under which they may share users' information is if (1) a user agrees to do so (2) if the company finds it required by law and (3) if a third party is contracted to provide a service for the users (such as a credit card processing company).
How is Ello Different Than Facebook?
It's Trendier
Ello offers what many would consider a more "edgy" interface while Facebook offers more of a conservative feel.
No Ads
The lack of ads on Ello is also a major draw for those abandoning Facebook. Users don't want to feel like "customers" while divulging and sharing private information about themselves. Being bombarded by advertisements contradicts the expectation of privacy when using a members only website. This is why so many popular websites are extremely cautious about ad placement. Advertisers, themselves, are even starting to steer clear of Facebook since advertising on the site is considered, by many, to be a complete waste of money because of fraud.
Pseudonyms Allowed
On Facebook, you are required to use your real name. Ello isn't as rigid. Sometimes you want a certain level of anonymity when using a social media site. For example, you don't want a potential employer to potentially have access to your private life. So it makes sense that many would feel liberated by using a pseudonym.

No Controversies (Yet)
Facebook users did not take kindly to becoming psychological guinea pigs in connection with a study that attempted to gauge the emotional impact of manipulated news feeds. Close to a million users were subjects of the experiment which caused a major backlash.
Facebook "Jumped The Shark" Long Ago
Let's face it, Facebook just isn't as popular as it used to be. Notwithstanding the existence of Ello, Facebook has already "jumped the shark." Due to its extraordinary number of users, Facebook obviously will not face the demise encountered by MySpace. However, it will likely take a hit in the future. The purchase of Instagram did help stop the bleeding but there are so many purchases Facebook can make to keep itself on top.
How Will Ello Make Money?
Because Ello is completely against selling user information to third parties, they must find another source of revenue.
Budnitz and his team plan to generate an income by allowing users to make "small purchases" to help customize their Ello.
For example, musicians might be able control multiple accounts from one login for a nominal fee or purchase a unique design package designed by an artist. 
Users' will have an option to explore and expand their Ello page for that "new killer feature — whatever it is" says Budnitz. 
What Does The Future Hold For Ello?
The question is whether Ello is simply achieving its popularity via a viral  anti-Facebook fad or if it has staying power by virtue of its unique offerings.

The reality is that Facebook, with over a billion users, is not going anywhere.
Nonetheless, Ello can still achieve success of its own and also serve as an inspiration for entrepreneurs and small business owners that any vertical can be penetrated, no matter how large the competitor.






Topics: Ello, Facebook, Small Business, Startups