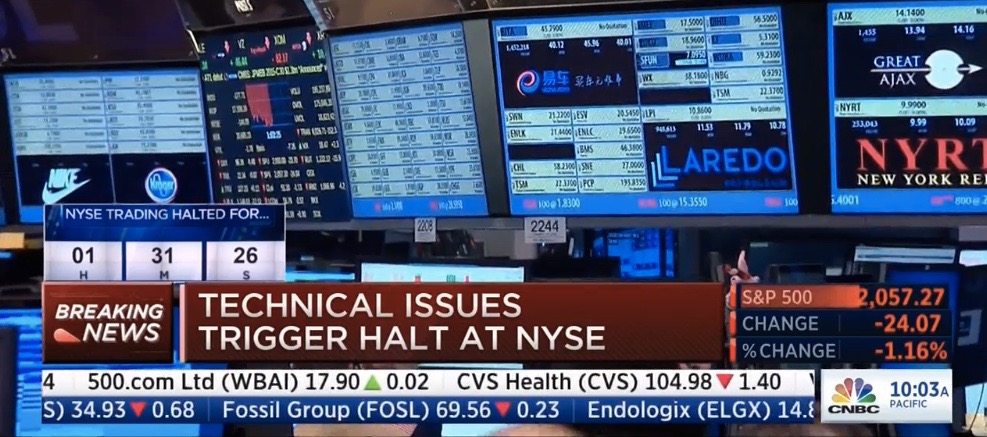 by Sheren Javdan
July 8, 2015
During an unprecedented and frenetic day for the stock market, the New York Stock Exchange (NYSE) halted all trading, at 11:32 A.M., E.T., due to "technical issues." 
The NYSE was re-opened at 3:10 P.M., E.T. and trades started slowly trickling in. 
Trading on NYSE and NYSE MKT has resumed

— NYSE (@NYSE) July 8, 2015
All systems were functioning normally as the closing bell rang at 5:00 P.M., E.T.
The halt affected trading of all NYSE securities. Trading of NYSE securities on other platforms were unaffected.
The almost four-hour stoppage signals the longest halt in the history of the Exchange.
According to the White House, President Obama was briefed on the NYSE trading halt.
According to CNBC, there are no signs of a cyber-attack.
However, others are skeptical in light of yesterday's suspicious tweet by international hacktivist group "Anonymous."
Wonder if tomorrow is going to be bad for Wall Street…. we can only hope.

— Anonymous (@YourAnonNews) July 8, 2015
The NYSE previously issued 3 tweets regarding the trading halt:
(1 of 3) The issue we are experiencing is an internal technical issue and is not the result of a cyber breach.

— NYSE (@NYSE) July 8, 2015
(2 of 3) We chose to suspend trading on NYSE to avoid problems arising from our technical issue.

— NYSE (@NYSE) July 8, 2015
(3 of 3) NYSE-listed securities continue to trade unaffected on other market centers.

— NYSE (@NYSE) July 8, 2015
Just a few hours before the NYSE stopped trading, United Airlines experienced technical difficulties that caused them to ground all fights, worldwide, for two hours.
In addition, the Wall Street Journal website experienced some technical difficulties that were later resolved.
Although the NYSE currently denies a cyber-attack is to blame, the combination of Anonymous' tweet with the NYSE, United Airlines and the WSJ technical difficulties may suggest, to some, that something more nefarious transpired.
The overall vulnerability of computer systems is now a major concern.
Others are warning to be prepared for more cyber-attacks on the US.
The situation has proven extremely beneficial for for cyber-security stocks, which have surged.
Questions remain as to whether this is an isolated incident, whether investors will be gun-shy in the days ahead and what the long term impact will be.
The Dow finished the day down 261.49 points. The NASDAQ finished the day down 87.70 points. The S&P 500 finished the day down 34.66 points.
Stay tuned for the latest updates on this seminal day for the stock market.