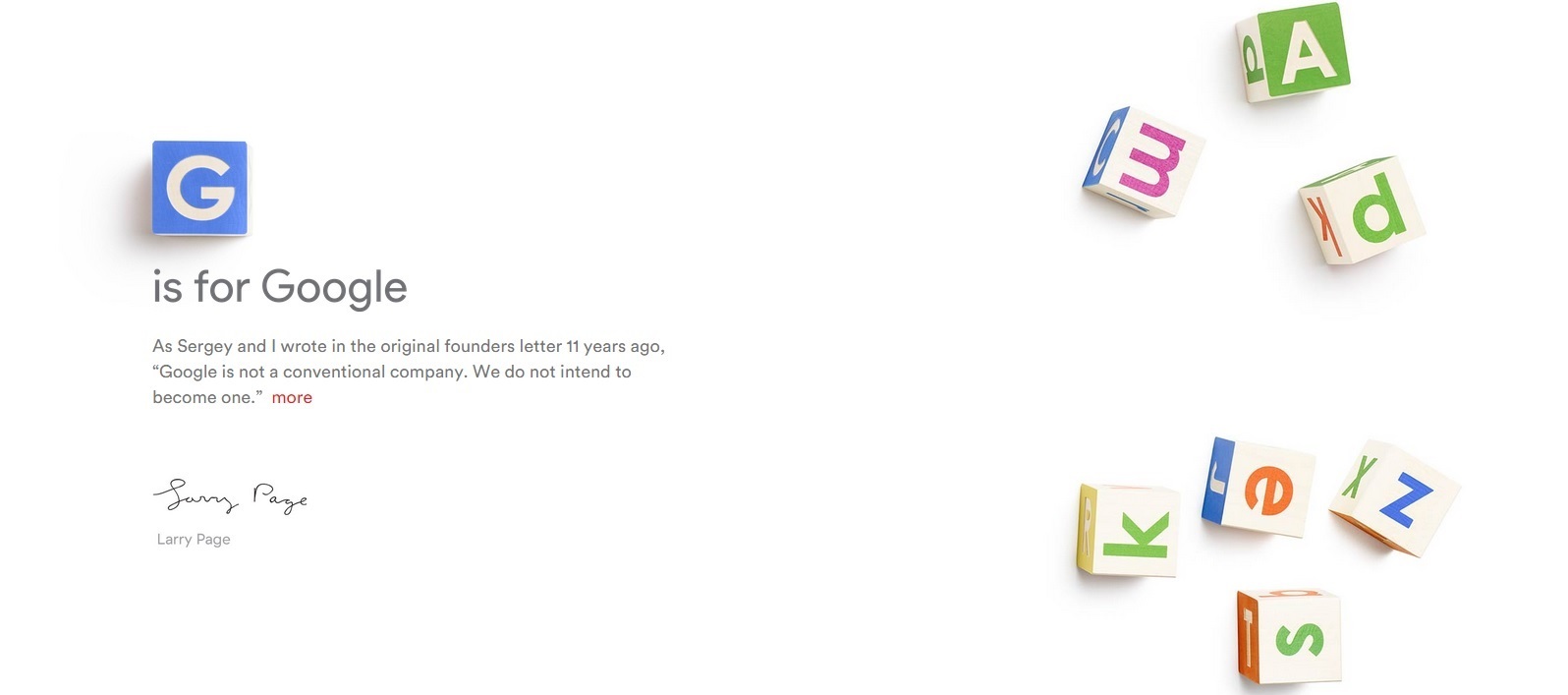 by Jackson McNeill
August 11, 2015
Google has always been known for its innovation. Not only did the tech giant basically reinvent the way that we search for information, it's also pursued bold ideas like driverless cars, delivery drones, and a balloon-powered internet.
But no one expected Google to reinvent itself.
That exactly what happened on Monday when the tech leader announced that it was reorganizing itself under a parent company called "Alphabet, Inc." 
Under the new structure, Google will become a wholly owned subsidiary of Alphabet. Many of Google's smaller divisions—such as Nest, X Labs, Calico, and Google Ventures—will also become their own subsidiaries.
Google cofounder Larry Page will become Alphabet's new CEO, and its other cofounder, Sergey Brin, will become Alphabet's new president.
"We've long believed that over time companies tend to get comfortable doing the same thing, just making incremental changes," Mr. Page wrote in a blog post. "But in the technology industry, where revolutionary ideas drive the next big growth areas, you need to be a bit uncomfortable to stay relevant."
Sundar Pichai, who was previously the company's Product Chief, will become Google's new CEO.
ALSO SEE: Google Tried to Buy a Veggie Burger Startup for $300 MILLION
That's not to say that everything will change. Some of the company's largest and most well known assets—such as Google Maps, YouTube, and Android—will remain divisions within Google, at least for now. And with almost all of the same leadership staying in place, day-to-day operations at Google should largely remain the same.
But by turning some of Google's divisions into their own companies, the new subsidiaries should have a bit more freedom, more room to innovate, and hopefully a better chance at becoming successful.
"Alphabet is about businesses prospering through strong leaders and independence," Page said. With Alphabet, "we can run things independently that aren't very related."
The move is also likely to placate investors.
Many investors have been less than excited about Google's moonshot projects, such as its effort to create contact lenses that measure blood sugar, or a pill which can detect cancer. Although these projects sometimes have big payoffs, they often fizzle out and lose the company money in the short-term.
Breaking Google apart will help investors see exactly which projects are making the company money, and which are hurting the bottom line.
"With this new structure," Page said, "we plan to implement segment reporting for our Q4 results, where Google financials will be provided separately than those for the rest of Alphabet businesses as a whole."
It may also encourage people to invest in the riskier Alphabet subsidiaries while simultaneously making Google's core business a safer, more profitable investment.
With broken up subsidiaries, each company could raise outside funding for its wild ideas, exchanging equity for cash or a strategic partnership. As those company develop, they could even consider their own IPO, rewarding Alphabet shareholders and outside investors in the process.
ALSO SEE: Google Self-Driving Cars Hit California Roads
Finally, the restructuring may also help Google attract more top talent. Creating subsidiaries should give executives more freedom to run their companies as they wish. It will also allow them to call themselves "CEO" rather than just "Director" or "Project President," an easy way to pad executive resumes.
Ok … But why the name "Alphabet?"
"We liked the name Alphabet because it means a collection of letters that represent language, one of humanity's most important innovations, and is the core of how we index with Google search!" Page said.
The announcement and Alphabet's new home page can be seen at abc.xyz.