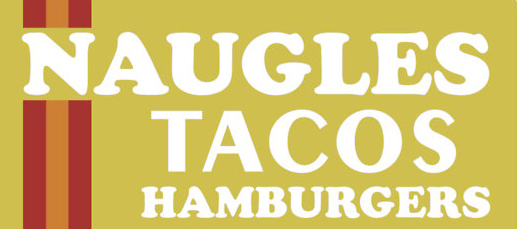 by Jenny Kim
April 21, 2015
On March 31, the U.S. Patent and Trademark Office's Trademark Trial and Appeal Board decided that Del Taco could not prove that it had not abandoned the Naugles trademark, effectively opening the doors for web developer by day and food blogger by night Christian Ziebarth (44) to register the trademark.
Ziebarth has been fighting to register the Naugles trademark with the U.S. Patent and Trademark Office since 2010.
Naugles first started out in 1970 as a fast food restaurant of the Mexican-American persuasion on 14th Street and Brockton Avenue in Riverside by Dick Naugle, a former Del Taco employee. Del Taco, a fast food Mexican restaurant chain, merged with the parent company of Naugles in 1988.
At the time, Naugles had 171 restaurants, while Del Taco had 202. Within a year of the merger, most Naugles restaurants were either converted to Del Taco restaurants or shut down. Del Taco closed the last restaurant bearing the Naugles name, located in Nevada, in 1995.
Ziebarth became interested in reviving the Naugles trademark and its signature foods after garnering much interest in the defunct restaurant chain through his blog, Orange County Mexican Restaurants. Over the past several months, Ziebarth has hosted pop-up restaurants, bringing back Naugles menu items from Del Taco abandonment.
When Ziebarth first applied to register the trademark in 2010, it was denied because of Del Taco's registration of the mark. Thereafter, Ziebarth petitioned with the U.S. Patent and Trademark Office that Del Taco had abandoned the brand many years ago.
The Trademark Trial and Appeal Board agreed with Ziebarth and granted his claim of Del Taco's legal abandonment of the trademark. The Board cancelled Del Taco's nearly forty year-old federal registration of the Naugles trademark for "restaurant services."
The Lanham Act, which created a national system of trademark registration, states that when an owner stops using a trademark with an intent not to resume use, the trademark is legally abandoned. A person who seeks to challenge the registration of a trademark has the initial burden of proof.
However, the challenger can establish a presumption of abandonment by showing that the owner failed to use the mark for three consecutive years.
This then shifts the burden of proof to the owner. The owner can overcome this rebuttable presumption by proving that the mark was used during those three years or that he has a genuine intent to resume use in the reasonably foreseeable future.
The Board concluded that Ziebarth showed by a preponderance of the evidence that Del Taco abandoned use of its registered mark and that Del Taco's evidence did not overcome this rebuttable presumption of abandonment.
Del Taco presented apparel merchandise, previous website formats, secret menus, as well as print menus that mention Naugles. The Board did not find that any or all of the evidence was sufficient to disprove abandonment.
Noach Chillington, the Vice President of Marketing at Del Taco, submitted an affidavit that included secret Naugles menu items at Del Taco stores, a print menu that reads, "Viva Naugles Viva Del Taco," and mentions of the Naugles mark in previous versions of the Del Taco website.
The Board refused to recognize these things as evidence of non-abandonment. The Board said, "The Lanham Act was not intended to provide a warehouse for unused marks. An inchoate wish to use a mark after a lengthy hiatus is an insufficient basis for maintaining a registration."
Del Taco could have avoided this war with Ziebarth. In August 2006, Ziebarth wrote a blog entry about Naugles on his food blog. Encouraged by the attention it received, Ziebarth eventually petitioned Del Taco to bring back Naugles menu items. Ziebarth landed a meeting with a Del Taco PR representative in 2008, where he suggested that Del Taco reboot Naugles items.
The representative said that she would present the idea to those higher up in Del Taco, but nothing happened. He then took matters into his own hands, acquiring business partners, reverse-engineering the Naugles menu, and applying to register the Naugles trademark.
With Del Taco's registration of Naugles cancelled, Ziebarth can now move to register the Naugles trademark with the U.S. Patent and Trademark Office. Registration will be finalized once the trademark is shown to be in use by Ziebarth.






Topics: Trademark, Trademark Disputes