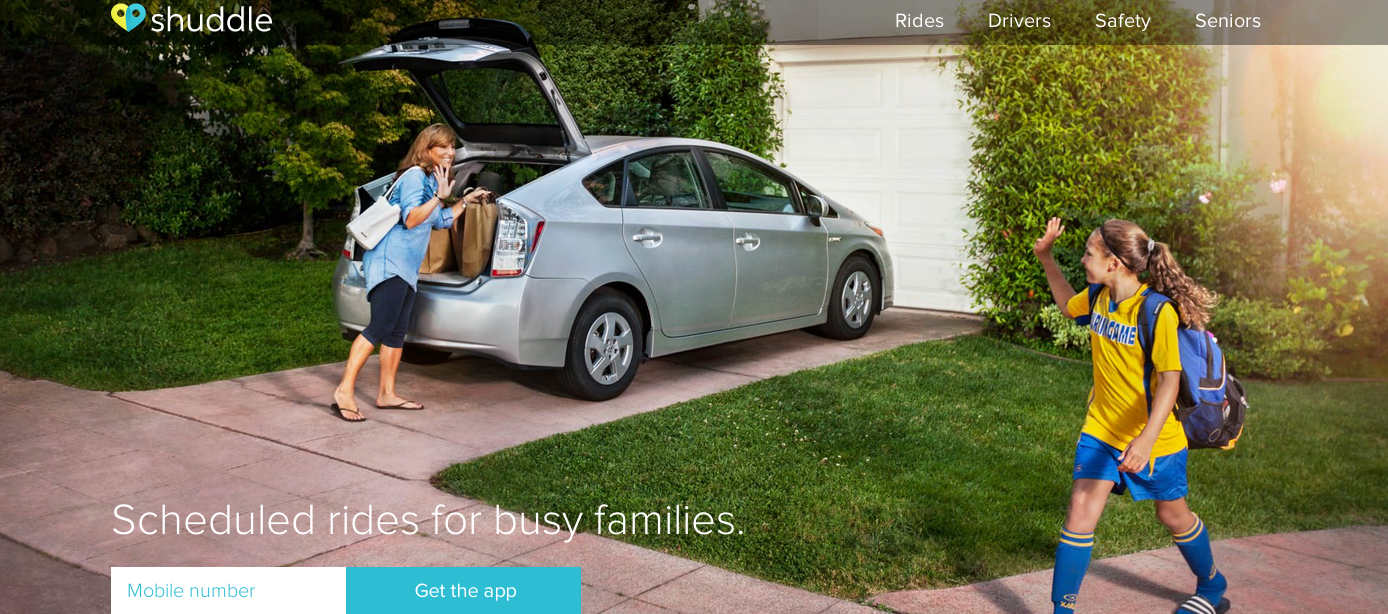 by Sheren Javdan
March 19, 2015
Carpooling has been around forever. For decades, parents have shared the responsibility of picking up and dropping off their kids with other local parents.
Shuddle, Inc., an Oakland California based startup company, has raised $9.6 million in series A funding to revolutionize and simplify the carpooling process. Shuddle is a ride sharing service targeting children, ages 8 and up, and seniors.
Nick Allen, previous co-founder & CFO of San Francisco based Sidecar, developed an app that allows parents to schedule pick ups and drop offs for their children, and the elderly, through their mobile devices.
Examples include carpooling between school, soccer practice, dance class and home. Seniors frequently use Shuddle for doctor's appointments.
Shuddle's Series A funding round led by RRE Ventures raised $9.6 million. This last round combined with its original investments from Comcast, Forerunner & Accel Partners raised the total amount earned to $12 million.
How to Book Shuddle:
Parents must schedule a pick up or drop off with screened and trained drivers at least 24 hours, but no more than a week, in advance. This is to give parents enough time to review the driver information provided by Shuddle.
Once a ride is scheduled, Shuddle provides parents with the driver's full name, photograph, short biography and a description of the car. Parents can also track their children's route through the app.
To maintain safety, parents can choose a secret word or phrase that the driver must provide the riders to ensure his or her identity. This will help to ease parents' anxiety about letting their children ride with complete "strangers."
How Much Does Shuddle Cost?
Shuddle membership costs $9 a month and covers their "best-in-the-industry" insurance (up to $1 million coverage) and driver screening process. Additional per ride fees are based on mileage and time which is estimated once the ride is scheduled.
Payment is collected through their app using credit cards so children and seniors don't have to worry about carrying cash.
Who Are Shuddle Drivers?
Shuddle hires drivers with a lot of experience working with families. They hire nannies, teachers, camp counselors, nurses, caregivers and other parents. They make sure to personally interview each potential driver and check their employer references in addition to doing criminal background checks.
Drivers are also required to pass a 19-point vehicle inspection with the DMV.
How is Shuddle Different From Uber, Lyft & Sidecar?
There are a few differences between Shuddle and other popular ride sharing apps.
First, unlike the others, Shuddle is not on-demand. Rather, users must book their pickup at least 24 hours in advance.
Second, Shuddle has a special insurance policy that is tailored to children and seniors who need assistance getting into and out of the vehicle.
Shuddle's ShuddleScreen verification process also requires its drivers to attend in-person training and orientation classes, provide 2 different employment references that are thoroughly examined and pass a comprehensive vehicle safety inspection. Shuddle will also examine drivers' DMV records and conduct both national and local criminal background checks.
Drivers must also have experience working with children. Once their drivers are approved, Shuddle actively monitors their insurance and license records.
Although many parents may still have reservations about allowing their children to ride alone with a stranger, Allen says he's heard them before. "I heard the same argument when we started Sidecar … no one wanted to get into a car with a random stranger." Children are already "taking carpools, riding on the school bus or city bus, riding a bike to school themselves."






Topics: Apps, California Corporations, California Startups, Delaware, Small Business, Uber